Viola Mary Cain, 95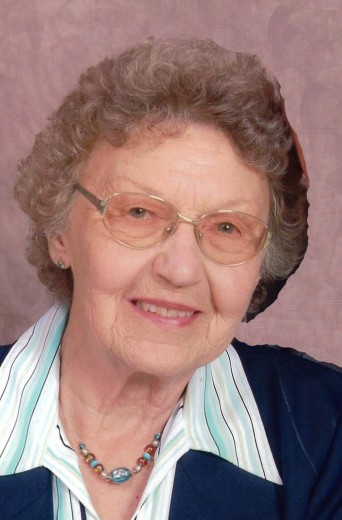 Viola Mary Cain, 95, of Shell Rock, Iowa, died Friday, November 3, 2023, at Shell Rock Healthcare Center in Shell Rock.
Viola was born March 23, 1928, in rural Shell Rock, the daughter of Thomas and JoAnna (Wessels) Moran. She attended Jefferson Township School and then graduated from Shell Rock High School. On May 25, 1947, she was united in marriage to Dale Cain at the Presbyterian Church in Cedar Falls. She was proud to have married into the large Cain family and thoroughly enjoyed all the family get-togethers. Viola was very active working on the family farm where she was known to be strong-willed and in control. Even in recent years she was determined to do yard work.  In addition, she and Dale owned and operated the Garden Café in Shell Rock for 13 years before moving to the farm in 1962. Dale and Viola retired to a home in Shell Rock where they resided until recently when Viola became a resident of Shell Rock Healthcare Center.
Viola was a past member of Peace Lutheran Church in Shell Rock where she served as a Sunday School teacher. Most recently she had been a member of Faith Lutheran Church in Shell Rock. She always looked forward to gathering with family, whether it was at the farm or trips to Lake Winnibigosh in Minnesota. She also attended many of her grandchildren's events.
Viola is survived by her three sons; Tom (Connie) Cain of Shell Rock, Richard (Marcia) Cain of Spirit Lake and Gary (Sandy) Cain of Walford, 8 grandchildren and 19 great grandchildren. She is preceded in death by her parents, husband Dale and an adopted sister, Rosanne Neil.
Memorial Services will be held at 10:30 a.m. on Thursday, November 9, 2023, at Faith Lutheran Church in Shell Rock with Rev. Joel Becker officiating. Visitation will be held for one hour prior to the service. Burial will follow the service at Riverside Cemetery in Shell Rock. Lunch will follow the burial at the Faith Lutheran Church.  Memorial contributions may be made to the church and online condolences may be left at kaisercorson.com.
Kaiser-Corson Funeral Home in Shell Rock is in charge of arrangements. 319-885-4321
Category:
Tribune-Journal & Star
101 N. Main St.
P.O. Box 788
Clarksville, IA 50619
Phone: 319-278-4641
Mid-America Publishing
This newspaper is part of the Mid-America Publishing Family. Please visit www.midampublishing.com for more information.