Orlyn Schellhorn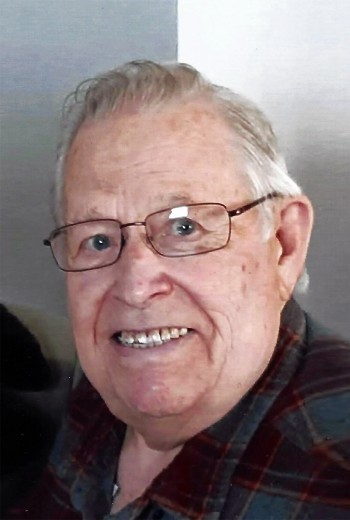 Orlyn Louie Schellhorn, age 88, of Clarksville, Iowa, was born the son of Henry and Minnie (Warneke) Schellhorn on May 8, 1934, in Bremer County, Iowa.
On December 21, 1953, Orly was united in marriage with Marva Westendorf at St. John's Lutheran Church in Sumner, Iowa. The couple made their home at Grove Hill and later moved to Waterloo, Iowa. Orly went to work at Rath Packing. In 1974, they moved to Clarksville and opened Orly's Locker. Orly and Marva worked side by side with their children until 2001.
Orly was a member of St. John Lutheran Church in Clarksville. While owning Orly's Locker, he was an active member of the Iowa Meat Processors Association, serving as president in 1994. Orly received many awards at state and national levels for his homemade products. He loved country music and taking Marva to dances with good ole polka music. Orly loved a good game of cards with his friends and family, especially his grandchildren. 
Orly died Monday, June 6, 2022, at Waverly Hospital in Waverly, Iowa, of natural causes. Orly is proceeded in death by his wife Marva; two sisters, Esther Niemeyer and Adeline Schellhorn; six brothers, Roland, Wilhart, Erwin, LaVern, Lorenz, and Marvin Schellhorn; and two sons-in-law, Richard Weber and Bruce Stephan. 
Orly is survived by five children; Diane Weber Stephan of Reinbeck, Iowa; Connie (Ray) Petersen of Clarksville, Iowa; Daryl (Debby) Schellhorn of Clarksville, Iowa, Kevin Schellhorn of Clarksville, Iowa, and Linda (Joe) Wedeking of Clarksville, Iowa; 13 grandchildren, Kyle (Kayla) Weber and Chad Weber, Sara (Kyle) Barnes, Heather (Nate) Meyer, Tyler (Danica) Schellhorn, Carissa (Jeff) Rauenbuehler, James Schellhorn, Megan (Travis) Barber, Mark Schellhorn, Missy (Kent) Klooster, Katie Wedeking (Fiancé Preston Burman), Kimberly Wedeking (Fiancé Brady Meyer), and Kori Wedeking; 7 great grandchildren; Seeley Weber, Frederick Barnes, Leo Meyer, Jackson Schellhorn, Katelyn and Kassidy Barber, Taylor Schellhorn, and Brantley Burman; one brother, Arnold Schellhorn of Oran, Iowa; one sister-in-law, Helen McClain of Vinton, Iowa.
Funeral services were held at 10:00 a.m., on Saturday, June 11, 2022, at St. John Lutheran Church in Clarksville, with Pastor Charles Underwood officiating.  Pianist was Jill Pliner and she accompanied the congregation as they sang "Precious Lord Take My Hand", "in The Garden" and "Just A Closer Walk With Thee".  Burial was held at Lynwood Cemetery in Clarksville with Kyle Weber, Chad Weber, Tyler Schellhorn, James Schellhorn, Mark Schellhorn and Alan Schellhorn serving as Casketbearers. 
Visitation was from 4:00 p.m. to 7:00 p.m. on Friday at Redman Funeral & Cremation in Clarksville and one hour before services at the church.  Memorials may be directed to the family.  Redman Funeral & Cremation Services in Clarksville was in charge of arrangements.  Online condolences may be left at www.redmanfuneral.com
Category:
Tribune-Journal & Star
101 N. Main St.
P.O. Box 788
Clarksville, IA 50619
Phone: 319-278-4641
Mid-America Publishing
This newspaper is part of the Mid-America Publishing Family. Please visit www.midampublishing.com for more information.