Marjorie Leerhoff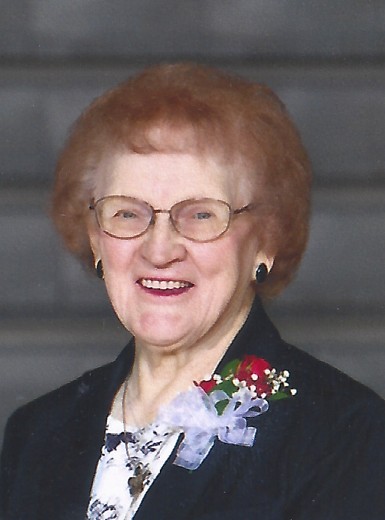 Marjorie Ann Leerhoff was born March 11, 1929 at the farm home of her parents, Herman C. and Minnie "Tiedt" Kimball, north of Readlyn, IA in Fremont Township, Bremer County. She was baptized in 1929 and confirmed in 1943, both at St. Matthews Lutheran Church in Readlyn, IA. She received her elementary education in a one room country school and graduated from Readlyn High School in 1947. She attended Luther League and taught Sunday school at St. Matthews Church.
On July 20, 1947, she was united in marriage to Harland W. Leerhoff at St. Matthews Lutheran Church in Readlyn, IA. They enjoyed farming together until retirement in 1979, when they built a house on the northwest corner of their farm, where Marjorie had still lived until April of 2021. Her beloved husband Harland, died on January 23, 2007, they had almost 60 years together in marriage. 
Marjorie, "Little Red", was proud of their family and enjoyed the time with them being a wife, mother, grandmother, great grandmother, and great-great grandmother. She enjoyed helping with the farm work, milking cows, raising chickens, gardening, and hauling corn and soybeans to the elevators. She loved and was proud of her entire family. She also enjoyed country music, playing cards, puzzles, sending greeting cards, and doing volunteer work. She was a member of St John Lutheran Church in Clarksville IA.
Marjorie passed away on Sunday, October 31, 2021, at Mercy One Hospital in Waterloo, Iowa, due to natural causes. She was preceded in death by her parents; four brothers, Harvey in infancy, Dr. Glenn Kimball (2003), Roger Kimball (2013), and Robert Kimball (2013); her husband, Harland (2007), and her son Jeffrey Leerhoff (September 2021). 
Marjorie is survived by three sons; Eugene (Marcella) Leerhoff of Greene IA, James (Sharon) Leerhoff of Clarksville, IA, Ronnie (Sheila) Leerhoff of Plainfield, IA; one daughter-in-law, Terri Leerhoff of Linden IA; nine grandchildren, Kelli (Steve) Nauman, Kurt (Jenny) Leerhoff, Kevin Leerhoff, Kimberly (Mike) Jenison, Danielle (Jon) Schell, Pamela (Jason) Freeseman, Nicole (Travis) Connick, Nathan (Bridget) Leerhoff, Nicholas (Ashlea) Leerhoff; 32 great-grandchildren and four great-great grandchildren; two sisters-in-law Bernice Kimball of Altoona, IA and Joann Kimball of Arizona, and many nieces and nephews.
Funeral services were held 1:00 p.m. Friday, November 5, 2021, at the St. John Lutheran Church in Clarksville, with Pastor Charles Underwood officiating. Pianist was Jill Pliner and she accompanied the congregation as they sang "My Hope Is Built on Nothing Less", "How Great Thou Art", and "God Be with You Until We Meet Again". Burial was held at Lynwood Cemetery in Clarksville, with Kurt Leerhoff, Kevin Leerhoff, Nathan Leerhoff, Nick Leerhoff, Jason Freeseman, Kim Jenison, and Danielle Schell serving as Casketbearers. Honorary Casketbearers were Pamela Freeseman, Nicole Connick, and Kelli Nauman.
Visitation was held from 4:00 p.m. to 7:00 p.m. on Thursday, at Redman Funeral & Cremation in Clarksville, Iowa., and one hour before services at the church. Memorials may be directed to St. John Lutheran Church. Redman Funeral & Cremation in Clarksville was in charge of arrangements. Online condolences may be left at www.redmanfuneral.com
Category:
Tribune-Journal & Star
101 N. Main St.
P.O. Box 788
Clarksville, IA 50619
Phone: 319-278-4641
Mid-America Publishing
This newspaper is part of the Mid-America Publishing Family. Please visit www.midampublishing.com for more information.