Marjorie Ann (Hanig) Kampman, 94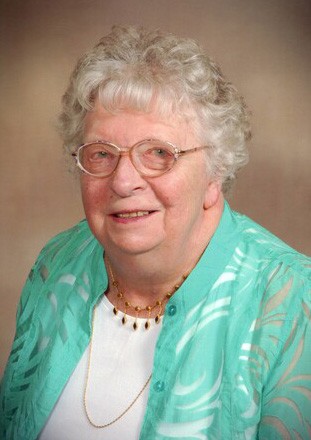 Marjorie Ann (Hanig) Kampman, 94, died on February 19, 2023, at Franklin Country View Nursing Facility, in Hampton, Iowa, just two days shy of the 40th anniversary of her husband's death. Marj was a longtime resident of Dumont, Iowa.



Marj was born October 31, 1928, at her parents' home in Ackley, Iowa, to Joseph and Helen (Arndorfer) Hanig. Marj attended grade school at Sacred Heart Academy in Ackley and graduated from Ackley High School in 1946. In her young adult life, Marj worked at the Strand Theater in Ackley and the Ackley World Journal.



Marj married Harvie A. Kampman on February 4, 1951, in St. Mary's Catholic Church in Ackley. Marj and Harvie farmed south of Dumont, Iowa, and raised three daughters: Carol, Donna and Eileen. In February 1980, Marj and Harvie moved from the farm into Dumont. After moving into town, Marj began working in the Dumont School cafeteria and continued to do so for thirteen years. Marj continued to live in the same house in Dumont from 1980 until she had health issues in early 2022.



Harvie died on February 21, 1983. After Harvie's death, Marj studied at Minneapolis (MN) Community College to become a Certified Nursing Assistant (CNA). Marj then worked several summers in the Minneapolis/St. Paul area as a live-in nursing assistant for Optional Home Care.



Marj had a deep Catholic faith. She was a long-time member of St. Francis Catholic Church in Dumont and moved her membership to St. Patrick's Catholic Church in Hampton when St. Francis closed. Marj and several other former St. Francis parishioners established a prayer group which she enjoyed faithfully until the other members passed. Marj sent birthday cards from the St. Francis parish (and later as a "friend from Dumont") to each of the nursing home residents in Dumont over 30 years. While a member of St. Francis, Marj taught Catechism classes to the youth for many years.



Marj enjoyed dancing with Harvie in area ballrooms. Marj liked traveling with family members when she could, filling out her word-search and fill-in-the-word books, reading, and feeding the birds in her yard. Her favorite bird was a cardinal. Most of all, Marj loved spending time with her family and friends.



Marj was preceded in death by her husband, Harvie; her parents, Joe and Helen Hanig; brother Duane Hanig; infant grandson Isak Kampman Helseth: and many brothers-in-law and sisters-in-law, including Harvie's siblings: Chris, Fannie, Willie, Alma, Margaret, Robert (Bud), Arlene, Anne, and Albert Jr (Bert).



Marj is mourned by her three daughters: Carol (Jim Helseth) Kampman of Minnetonka, MN; Donna (Todd) Speedy of Hampton, IA, and Eileen (Stephen) Gorton of Rowlett, TX. She is also survived by eight grandchildren: Kade Helseth, Anna Helseth, Jilissa Schulz, Tim (Niki) Kunz, Seth Kunz, Kimberly (Andrew Jeske) Speedy, Emily (Jose) Aguilar, and Andrew Gorton, as well as two step-granddaughters Mya Helseth and Anaka (Nathan) Hughes. Marj is also survived by great-grandchildren Christian Kunz-Miller, Cole Kunz, Hailey Kunz, Abigail Kunz, Rylee Jeske, and Siena Aguilar, and step great-grandchildren Gus Parry, Lou Hughes, Evan Hughes, Justin Telesco, Maryssa Telesco, and Joey Luksch. She was anticipating the arrival of another great-grandchild and first great great-grandchild. In addition, Marj is survived by her sister, Norma Henderson of Florence, AZ, sister-in-law Inez Hanig, Waterloo, IA, brother-in-law Robert Orr, Aplington, IA, and many nieces and nephews.



The family thanks the Franklin Country View Nursing Facility, Hampton, for their loving care of Marj, in her last months.



Memorials can be sent to St. Patrick Catholic Church (Hampton, Iowa) or Ackley Heritage Center (Ackley, Iowa), if desired.



Mass of Christian Burial was held at 10:30 a.m., Thursday, February 23, 2023, at St. Patrick Catholic Church in Hampton, followed by burial in the Dumont Cemetery. A visitation was held from 5:00 p.m. to 7:00 p.m., Wednesday, February 22, 2023, at Counsell Woodley Funeral Home in Dumont, followed by a Rosary service.



Counsell Woodley Funeral Home cared for Marj and her family.
Category:
Tribune-Journal & Star
101 N. Main St.
P.O. Box 788
Clarksville, IA 50619
Phone: 319-278-4641
Mid-America Publishing
This newspaper is part of the Mid-America Publishing Family. Please visit www.midampublishing.com for more information.