Lowell "Happy" or "Hap" Hudson, 98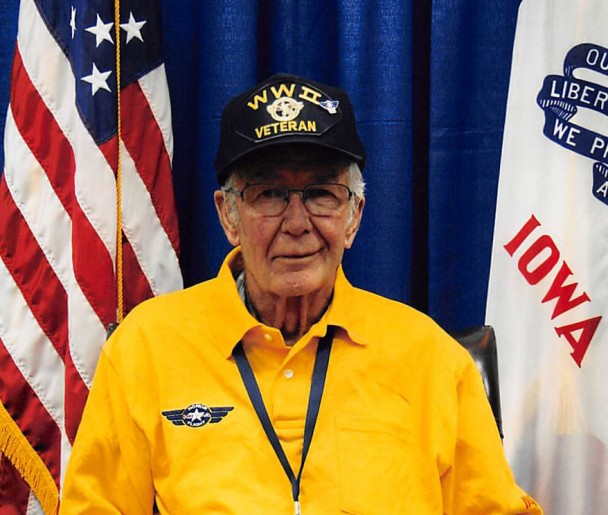 Lowell "Happy" or "Hap" Hudson, 98, of Dumont, passed away peacefully surrounded by family on Wednesday, November 15, 2023. Funeral services will be held at 1:00 p.m., Tuesday, November 21, 2023, at the Dumont Reformed Church. Visitation will be held two hours prior to the service from 11:00 a.m. until 1:00 p.m. at the church on Tuesday. Burial will take place in the Dumont Cemetery. Woodley Funeral Home of Dumont is caring for Hap and his family.
Lowell Eugene Hudson was born January 16, 1925, on the family farm in rural Aredale, Iowa, to Oscar Junius and Leta Elvira (Lockwood) Hudson.  His grandparents were Harrison E. Hudson/Flora L. Kellogg and Willie E. Lockwood/Mary Galbraith.  He was the youngest of eleven children.  Lowell "Happy" or "Hap" attended country school north of Aredale and graduated from Hansell High School.  Along with his brothers Dale and Carl, he played on the Aredale baseball team and won the Butler County Championship in 1941. He lost his brother Dale in 1944 who was a paratrooper pathfinder in 
WWII in France.  He then joined the United States Army and served his country during World War II where he was stationed in Italy.  He lost his brother Carl in 1946 when Carl (Naval Air Corps) was piloting a plane that crashed.  
He met the woman of his dreams at a dance in Dumont, Iowa.  On December 11, 1949, he was united in marriage to Beulah Marjorie Lindaman at the Dumont Reformed Church.  To this union, three children were born: Juliane, Connie and Greg.  Together, Hap and Beulah farmed in the Aredale and Dougherty areas from 1950-1962.  They then farmed northeast of Hampton for three years before moving south of Dumont where they farmed until Hap's retirement at the age of 65.  He was a lifelong member of the Dumont Reformed Church.  Hap was also a member of the Dumont American Legion and Butler County Farm Bureau.
Hap and Beulah did everything together.  In their early years, they went dancing at the Surf Ballroom in Clear Lake and they routinely participated in neighborhood card parties with friends.   He could ice skate, water ski, and was athletic.  Hap was everyone's hero; everyone respected him.  He was very calm and shared wise sayings and expressions with others, especially his grandchildren.  His devotion to his family never wavered. Hap was a jokester and a story teller.  He could fix anything and oftentimes referred to himself as the "Doctor of Dirt".  Hap gave his grandchildren rides on the tractor, which he enjoyed very much.
Hap is survived by his children Juliane Hass of Eyota, Minnesota, Connie (Steve) Faust of Grundy Center and Greg (Roberta) Hudson of Chillicothe, Illinois; grandchildren Levi Hass, Nicole Eckerson, Lindsey Hass, Jeffrey Hass, Jeremy (Kayla) Faust, Matthew (Sarah) Faust, Mark (Marin) Faust, Jonathan Faust, Andrew (Leslie) Hudson, Nicholas Hudson and Benjamin Hudson; great-grandchildren Ariana Eckerson, Genesis Hass, Chanelle Hass, Orlando Hass, Ava Hass, Leland Hass, Hayden Faust, Nora Faust and Henry Hudson Faust.
He was preceded in death by his parents, wife Beulah Hudson, granddaughter Stephanie Faust, brothers Hillis, Vernon "Mike", Frederick "Bud", Dale and Carl Hudson, and sisters Mabel "Alene" Wilke, Wilma Nolte Hill, Erma Hudson, Marian "June" Stewart and Doris Matteson.
Category:
Tribune-Journal & Star
101 N. Main St.
P.O. Box 788
Clarksville, IA 50619
Phone: 319-278-4641
Mid-America Publishing
This newspaper is part of the Mid-America Publishing Family. Please visit www.midampublishing.com for more information.