Gov. Reynolds announces limited reopening plan: Some Butler County businesses allowed to re-open May 1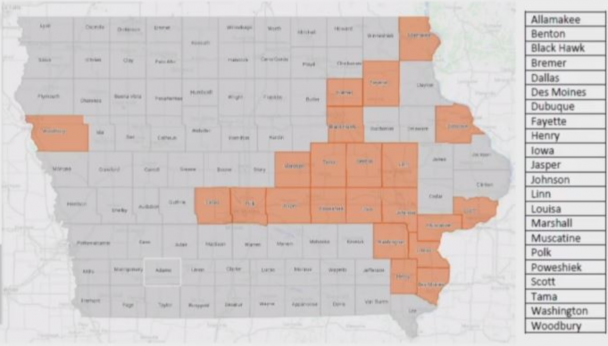 Iowa Governor Kim Reynolds announced loosened restrictions on libraries, restaurants, fitness centers, retail stores and more in 77 of Iowa's 99 counties, beginning May 1, in a Monday, April 27 press conference.
Butler, Grundy, Floyd and Franklin counties will see these lighter restrictions, while nearby counties including Bremer, Black Hawk, Marshall and Tama remain under existing regulations closing non-essential businesses until May 15.
The 77 counties are identified as having zero to little activity with the coronavirus and COVID-19, the disease caused by the virus.
"The counties we have opened up have stabilized and demonstrated a downward trend for 14 days," Gov. Reynolds said.
As of Monday morning, Butler County registered eight cases of the coronavirus, up from two cases a week ago.
"The reality is that we can't stop the virus, that it will remain in our communities until a vaccine is available," Gov. Reynolds said. "Instead we must learn to live with COVID-virus activity, without letting it govern our lives."
Restaurants, fitness centers, retail stores, libraries and malls in the 77 counties are allowed to re-open at 50 percent of operating capacity. Restaurants must have table settings six feet apart. Malls must keep play areas and common seating areas, including food courts, closed. Restaurants in the food courts are still able to offer carry-out service.
Social, community, recreational and leisure sporting events can open with limits of 10 people.
Race tracks are allowed to re-open in these 77 counties, provided no spectators are in attendance.
Spiritual and religious gatherings can open with no limits other than adhering to social distancing guidelines. This exemption applies to all 99 counties.
The following businesses in the 77 counties remain subject to closure until at least May 15: Bars, theaters, casinos and gaming facilities, social/fraternal clubs, senior citizen/adult daycare facilities, amusement centers, museums/aquariums/zoos, skating rinks/skate parks, playgrounds, campgrounds, swimming pools, salons, barbershops, medical spas, tattoo establishments, tanning facilities and massage therapy establishments.
The full list of counties not included in these lessened restrictions is: Allamakee, Benton, Black Hawk, Bremer, Dallas, Des Moines, Dubuque, Fayette, Henry, Iowa, Jasper, Johnson, Linn, Louisa, Marshall, Muscatine, Polk, Poweshiek, Scott, Tama, Washington, Woodbury.
Category:
Tribune-Journal & Star
101 N. Main St.
P.O. Box 788
Clarksville, IA 50619
Phone: 319-278-4641
Mid-America Publishing
This newspaper is part of the Mid-America Publishing Family. Please visit www.midampublishing.com for more information.