Elsena Kramer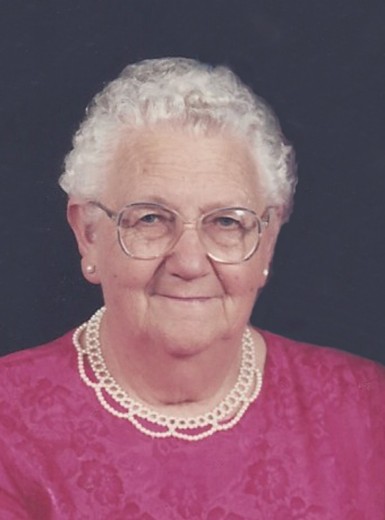 Elsena Kramer, age 99, of Clarksville, IA, was born the daughter of Steffen and Frouke (Frances VanDerLaan) Timmer on June 10, 1921, near Parkersburg, IA.  Her family later moved to the Allison area where she attended country school.
On August 25, 1941, Elsena was united in marriage with Peter William Kramer in the parsonage of the Christian Reformed Church in Butler Center.  The couple made their home on several farms in Butler County before moving to the home farm west of Clarksville in 1953.  After retirement they moved to their home in Clarksville in 1970.  Pete and Elsena celebrated 69 years of marriage when Pete passed away in 2011.  That same year Elsena moved and lived with Dee and Darla for the next six years, and then became a resident at the Clarksville Skilled Nursing and Rehabilitation Center.
Elsena was an active member of the Church of Christ in Bristow, Iowa and was baptized into Christ on April 4, 1972.  She enjoyed sharing her harmonica and "Hawaiian guitar" in church, at home, during family reunions, and at the nursing home.  Family and friends loved getting cards from her which included poems that Elsena had written.
  Elsena passed away Saturday, August 29, 2020, at the Clarksville Skilled Nursing and Rehabilitation Center in Clarksville.  She was preceded in death by her husband, Pete Kramer; parents; two grandsons, Jerry Renning and Joseph Dowden; one great-grandson, Shawn Renning; five sisters, Mattie Van Raden, Anna Negan, Marie Rieman, Tisha Wilkens, one in infancy (Anna); and seven brothers, Pete, John, Harm, Sander, Jake, two in childhood (Both George) Timmer; and a son-in-law, Edward Renning.
Elsena is survived by her three children, Diane Renning, Darla (Dee) Dowden, and Gary (Mary) Kramer all of Clarksville; 10 grandchildren, Bob (Asea) Renning, Todd (Maha) Renning, Leanne (Curt) Gallmeyer, Dina & Donna Dowden, Mike (Amy) Kramer, Kris (Chris) Fenneman, Bill Kramer, Doug (Kelly) Uhlenhopp and Jake (Raine) Kramer; 21 great grandchildren, Kristie, Kathie, Kristopher, Bobby, Megan, Molly, Jake, Wyatt, Ethan, Emma, Kari, Susie, Mackenzie, Tyler, Tanner, Trevor, Brody, Abrah, Luke, Maddy, and Emerson; and 11 great great-grandchildren, Natalie, Reagan, Mathias, Asher, Makenna, Abram, Kennedy, Everly, Ryder, Hoyt and Letty.
            Funeral services were held at 2:00 p.m., on Wednesday, September 2, 2020, at the Church of Christ in Bristow, with Pastor Dick Burlingame officiating.  Pianist was Sarah Harris and she accompanied the congregation as they sang "In Times Like These", "Burdens Are Lifted At Calvary" and "Where The Roses Never Fade".  Burial was at Lynwood Cemetery in Clarksville, with Bob Renning, Todd Renning, Mike Kramer, Bill Kramer and Jake Kramer serving as Casketbearers.  The Honorary Casketbearer was Joseph Dowden.
            Visitation was held from 4:00 p.m. to 7:00 p.m. on Tuesday at the Redman-Schwartz Funeral Home in Clarksville.  Memorials may be directed to the family.  Redman-Schwartz Funeral Home in Clarksville was in charge of arrangements.  Online condolences may be left at www.redman-schwartz.com
Category:
Tribune-Journal & Star
101 N. Main St.
P.O. Box 788
Clarksville, IA 50619
Phone: 319-278-4641
Mid-America Publishing
This newspaper is part of the Mid-America Publishing Family. Please visit www.midampublishing.com for more information.