Edo Miller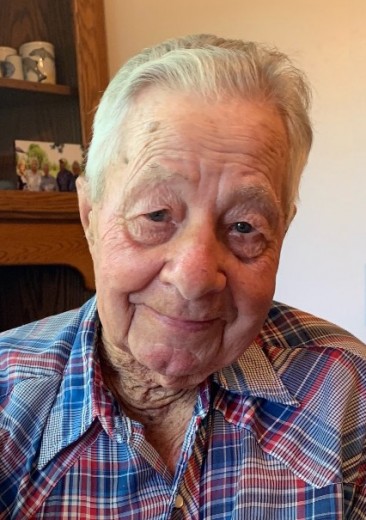 Edo William Miller, 96, of Allison passed away Wednesday, April 20, 2022, at the Rehabilitation Center of Allison. A funeral service will be held at 10:30 a.m., Tuesday, April 26, 2022, at Trinity Reformed Church in Allison. Visitation will be held prior to the service beginning at 9:30 a.m. Burial will take place in the Allison Cemetery. The Counsell Woodley Funeral Home of Allison is caring for Edo and his family.
Edo was born April 5, 1926, in Grundy County to Edward and Follie (Karsjens) Miller. Edo attended country school in rural Butler County. He was united in marriage to Louise Kruse on December 19, 1948 at St. John's Evangelical Lutheran Church Vilmar. Edo served his country in the U.S. Army during WW II. He farmed near Dumont and north of Allison, retiring in 1988 and moving to their current home in Allison. Edo was a member of the Trinity Reformed Church in Allison. He enjoyed family visits, card games with family, bus trips, and fishing trips to Minnesota. He enjoyed spending time with his grandchildren and meeting his great-grandchildren in recent years.
Edo is survived by his wife Louise Miller of Allison, son Ryan Miller of Urbandale, daughter-in-law Julie Miller of Maynard, granddaughter Annie (Brandon) Hanna of Houston, grandson Jay (Cindy Enyart) Miller of Waterloo, great-grandchildren, Luke and Lyla Hanna and Rose, Hazel and Ivy Miller, sister Henrietta Klooster of Aplington, sister Dolores (Merle) Hoodjer of Allison and sister Joyce Garner of Waverly.
He was preceded in death by his parents, son Ronnie Miller, brothers Joe, Cornelius, LeRoy, Wayne, Douglas and Larry Miller and sister Lois Rewerts.
Memorial contributions may be directed to Trinity Reformed Church (614 Cherry St, Allison, IA 50602) or to the family (PO Box 403 Hampton, IA 50441) for later designation. To send your condolences online click here.
Category:
Tribune-Journal & Star
101 N. Main St.
P.O. Box 788
Clarksville, IA 50619
Phone: 319-278-4641
Mid-America Publishing
This newspaper is part of the Mid-America Publishing Family. Please visit www.midampublishing.com for more information.