Dorothy Anne Luebbers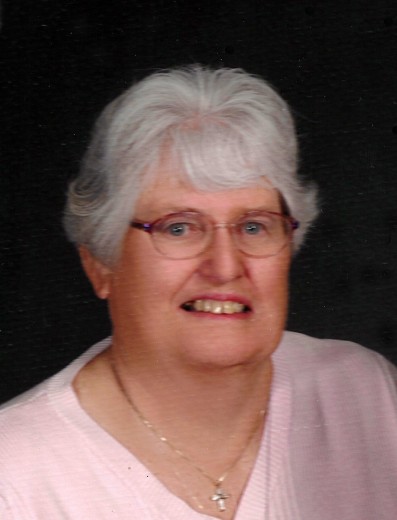 Dorothy Anne Luebbers, age 76, of Allison, Iowa, was born the daughter of George Leo and Eva Louise (Kothe) Amfahr on August 23, 1944, in Independence, Iowa.  She received her education from St. John Catholic High School in Independence and graduated in 1962. 
On March 5, 1963, Dorothy was united in marriage with John J. Hansel in Cedar Rapids, Iowa.  To this union three children Pauline, James and Justin were born.  The couple made their home in Dundee and later also lived in Strawberry Point and Manchester.  During this time Dorothy had worked at the County Auditor's Office in Manchester, Iowa, and also at the West Delaware Middle School.  In 1989, the family moved to Parkersburg.  Dorothy worked at the Iowa State Bank in Kesley, Iowa, and the Grundy National Bank in Grundy Center.  The couple divorced in 1998. 
Dorothy married Gerhard Luebbers on April 22, 2006, at Holy Family Parish - St. Patrick's Catholic Church in Parkersburg.  The couple lived on his farm near Allison.  Dorothy worked as a Deputy Auditor for Butler and Bremer Counties until she retired in 2006.
Dorothy was a faithful member of Holy Family Parish - St. Patrick's Catholic Church in Parkersburg.  She very much enjoyed visiting and playing cards with her family and friends.  She treasured friendships and people were always attracted to her kindness and sense of humor.  She was one of those special people who enjoyed her time mowing.  Dorothy enjoyed fishing and attending most any ball game, including watching the young people in her life play.  Dorothy loved spending time with her family and especially enjoyed spoiling her grandchildren whenever possible.
Dorothy passed away Tuesday, September 8, 2020, at her home surrounded by family.  She was preceded in death by an infant daughter, Pauline Anne Hansel on March 8, 1964; and her parents.
Dorothy is survived by her husband of 14 years, Gerhard Luebbers of Allison; two sons, James "JJ" (Angie) Hansel of Parkersburg, children, Charlee Anne and Jacob Jay, and Justin (Jennie) Hansel of Cedar Falls, children, Emma, Evan and Elijah; one step son, Tom Luebbers of Allison; two step daughters, Michelle (Randy) Dischler of Rockwell City, and Patti (Brian) Nie of Jesup; five step grandchildren; and two step great grandchildren.
            A Funeral Mass was held 10:30 a.m., Monday, September 14, 2020, at Holy Family Parish - St. Patrick's Catholic Church in Parkersburg.  Fr. David Kucera officiated the service and John Schwennen was a reader.  Pianist was Lyndsay Petersen.  The Canter was Bill Luebbers and he led the congregation as they sang "How Great Thou Art", "You Are Mine", "Taste And See" and "On Eagles Wings".  Burial was held at St. Patrick's Catholic Cemetery in Parkersburg with Tom Reinert, Larry Kisner, Larry Ricke, Jim Weber, Tom Luebbers and Bill Hammar serving as Casketbearers.  Honorary Casketbearers were Dade Herrmann, John & Bev Tuve, Bob & Jan Smeins.
            Visitation was from 3:00 p.m. to 7:00 p.m. on Sunday at Redman-Schwartz Funeral Home.  Memorials may be directed to her family.  Redman-Schwartz Funeral Home in Parkersburg was in charge of arrangements.  Online condolences may be left at www.redman-schwartz.com
Category:
Tribune-Journal & Star
101 N. Main St.
P.O. Box 788
Clarksville, IA 50619
Phone: 319-278-4641
Mid-America Publishing
This newspaper is part of the Mid-America Publishing Family. Please visit www.midampublishing.com for more information.