Clarksville and Shell Rock pay tribute on Memorial Day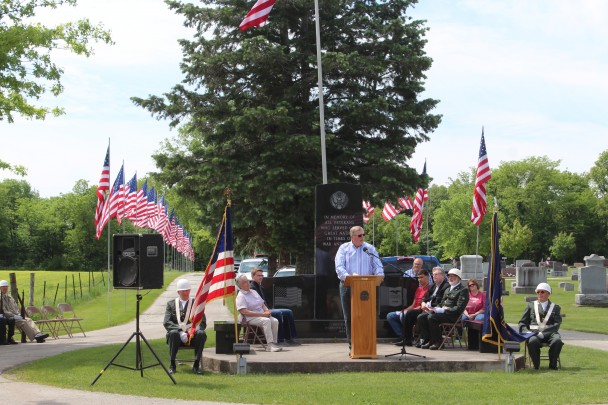 Shell Rock held Memorial Day services at 9:00 a.m. on Monday. A crowd of residents gathered at Riverside Cemetery to honor and pay tribute to the fallen veterans. Originally known as Decoration Day, the day of remembrance began during the years following the Civil War. It remained a day dedicated to the fallen soldiers of the Civil War, until World War I found the U.S. embroiled in another significant conflict. The holiday then included every war since, and was not officially declared a federal holiday until 1971.
A new kiosk, including a map and veteran listing has been added to Riverside Cemetery. In a return to normalcy, a good crowd was present on Monday morning for the service. The community also thanks the Legion and Boy Scout Troop 1051 for posting the flags at the cemetery.
In Clarksville, the Boy Scouts Clarkville High School band and AMVETS members marched to Lynwood prior to the 11:00 a.m. services. A large collection of residents was in attendance as AMVETS commander, Dan Forry, led the ceremony. Former longtime Clarksville Principal, Bob Saathoff, added a wonderful speech on a day that was blessed with amazing weather. As the names were read, there was a sense of pride, with the realization that many members of the community have served and contributed to the freedom of this nation.
At 7:00 a.m on Saturday morning, 27 volunteers, including five Boy Scouts and their leaders, putting up over 200 flags to Honor American Veterans. They flew throughout the weekend until Memorial Day evening when the same group picked them up.
After the flags were up, the flag raisers were served a delicious breakfast by the ladies of the AMVET Auxiliary that included bacon, eggs, hash browns, toast, orange juice and coffee at the AMVET Hall. The AMVETS office appreciates everybody who came to the program and to all of those who helped put up and take down the avenue of flags.
Category:
Tribune-Journal & Star
101 N. Main St.
P.O. Box 788
Clarksville, IA 50619
Phone: 319-278-4641
Mid-America Publishing
This newspaper is part of the Mid-America Publishing Family. Please visit www.midampublishing.com for more information.