Butler County Fair grandstand events cancelled: 4-H and FFA shows still planned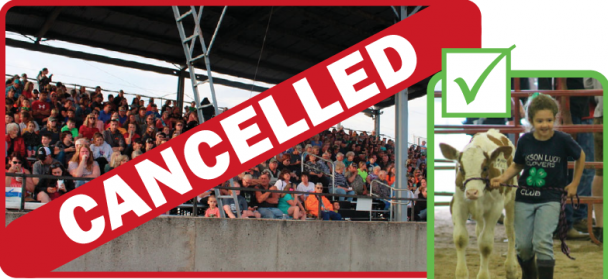 The Butler County Fair Board has announced that all non-youth related activities at the 2020 Butler County Fair have been cancelled, including all grandstand events, commercial exhibits, the carnival, food vendors and on-grounds free entertainment. Hopes are that the 4-H and FFA shows will still be held.
    The 164th Butler County Fair is scheduled for June 24-28.
    "We recently met with our local public health officials about the upcoming fair in regards to the current Covid-19 pandemic," the fair board stated in a press release. "Based on that meeting, as well as the current State Public Health Emergency Declaration that does not allow for any gatherings of more than 10 people at fairs and festivals, our board has made the difficult decision to cancel all non-youth related activities at the 2020 Butler County Fair."
    Should these declarations be adjusted in the near future to allow for slightly larger gatherings, the fair board's intention is to try to provide an adapted schedule that would still allow the 4-H and FFA youth in Butler County an opportunity to showcase their static exhibits and livestock projects in a safe environment.
    Fair Board President Mike Stirling said that the most optimistic projections he has heard from public health and emergency management may allow crowds of at most 250 people by fair time; this won't allow for a full-blown fair.
    At last year's fair, the Maddie Poppe concert alone drew a crowd of over 3100 fairgoers from throughout Butler County, across the state, and as far away as Canada, Wisconsin, Minnesota and Nebraska. A fair of that scale is not on the books for 2020.
    "We're trying to salvage it as best we can," Stirling said.
    "Any potential 4-H and FFA youth activities will need to be conducted in compliance with State and Local Public Health Emergency Declarations in effect at that time to prevent the spread of the coronavirus," the release continues. "We are working closely with the Iowa State University Extension Office personnel and local FFA Advisors to create guidelines and procedures that may allow for an adapted schedule.  As further information becomes available, we will continue to post updates on our Facebook and website pages."
Category:
Tribune-Journal & Star
101 N. Main St.
P.O. Box 788
Clarksville, IA 50619
Phone: 319-278-4641
Mid-America Publishing
This newspaper is part of the Mid-America Publishing Family. Please visit www.midampublishing.com for more information.