'Kind of like a nightmare' - Farmers and Iowa suppliers face local propane shortage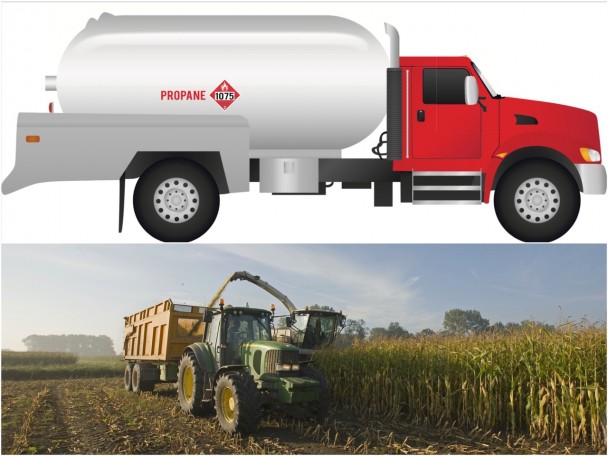 There's plenty of propane on the market in the United States, but Iowa farmers and suppliers are dealing with a propane shortage due to logistical issues with pipeline infrastructure and LP transportation in the face of high demand.
     As farmers work to finish their harvest, with 86 percent of corn harvested in Iowa, 10 days behind last year and two weeks behind the five-year average, moisture content of field corn is at 19 percent, according to Iowa Secretary of Agriculture Mike Naig's crop progress report for Nov. 18-24. A lack of propane available in state is slowing down the harvest as farmers need fuel to dry their corn.
     Iowa Governor Kim Reynolds has implemented emergency measures in response, including suspension of limitations on hours of service for propane delivery truck drivers though Nov. 30 and a waiver for the oversize and overweight transportation requirements for commercial trucks hauling propane and anhydrous through Dec. 15.
What caused the shortage?
     The localized propane shortage started toward the end of October.
     "Most of us saw it coming. We had the first real shock wave of it the weekend of Oct. 26 when the ONEOK Terminal started running out of product," said Energy Manager Matthias Schwartzkops of Mid-Iowa Coop in Conrad.
     The upper Midwest is supplied with propane by the Mid-American and ONEOK pipelines. There are limits on the safe transportation of propane from supply points as well as limits on pipeline capacity.
     "It's not a propane shortage at all. We're sitting on a record amount of propane this country is producing. The problem is it's not getting to this part of the country right now at a fast enough rate to meet season peaks," said Ryan Lindeman of Allison Propane.
     This year, Lindeman estimates that area farmers are using two to four times more propane than normal.
     "This is the first year we've had to dry corn continuously in a long, long time. Most of the time, corn is down to 15, 16, 17 percent," said farmer Rick Juchems of Plainfield.
     Farmers in the southern part of the Midwest are usually done drying corn by the time Northeast Iowa farmers dry their corn; that wasn't the case this harvest season.
     "Everyone started corn drying at the same time this year," Johnson said. "We had cold temperatures on top of that, and really wet corn, which takes a lot of gas."
     Schwartzkops agreed.
 "Add in cold weather," Schwartzkops said, "and home heat and livestock heat piles in as well."
     Cooler temperatures throughout the summer and fall have not helped.
     "There are many factors that have created this situation: more corn acres and a delayed planting season, cooler and wetter conditions this fall that slowed field dry down, excellent yields, colder temperatures that are requiring more propane consumption for heating home and livestock barns, and just not enough infrastructure in the system to keep up with the demand," said Shell Rock farmer Jeff Reints.
     Farmer Ron Salge of Bristow had similar thoughts.
     "With the cold weather, LP is going to residential homes and livestock facilities, and with the cold weather we have more demand for LP…" Salge said. "With our late spring, a lot more of the corn needs dried."
     The pipeline infrastructure in place isn't handling the flow needed to meet the demand of Iowa sources.
     "Almost every bushel out of the field needs to dry. Plus there's the fact the temperature is 20-30 degrees below normal. Grain dryers run day and night sucking the ice-cold air," Lindeman said. "Houses and livestock burn gas faster, and the whole thing is kind of like a nightmare."
Farmers need propane
     "Our farm LP storage tanks have been empty for eight days now, which has prevented us from drying any corn," Shell Rock Farmer Jeff Reints said on Nov. 16.
     At the same time, Rick Juchems of Plainfield reported he had put harvest on hold, waiting for a tank.
     "There have been several farmers out. We've been out for a week and a half. We can't get any, so we're not harvesting…" Juchems said. "I've prepaid for a number of gallons, and they're not able to deliver."
     Meanwhile, Jon Keninger, Location Manager of the Ackley Energy Department of Innovative Ag Services (IAS), reported that while most of the IAS grain elevators run on natural gas and continued serving farmers, three or four with propane-fueled dryers had to close down for days.
     The story was similar at Schmadeke Feed Mill in Clarksville, which also had to close down for a few days due to the shortage.
     For farmers, a lack of propane can cut into the bottom line.
     "Farmers spend a lot of money building grain driers and setting them up, so they can capture the market at the ethanol plant or feed producing plant…" Keninger said. "They like to control their grain. They like to have it dry to 15 percent."
     And for that, they need propane.
     "We haven't had the heat units to dry corn down in the field," Juchems said. "It comes out at 19-20 percent. It needs to be 15 percent to sell it without a dock or without shrinkage or drying costs."
     Even ethanol plants, Juchems said, won't take corn over 19 percent.
     Some farmers have been forced to seek alternate solutions.
     "We have been harvesting fields that have field dried to 19 percent moisture and are putting that corn in storage bins with good fans and temperature sensor cables to help monitor the grain condition. We will either dry this corn at a later time, or blend with dried corn for delivery this winter…" Reints said. "Most farmers have their propane needs contracted in late summer, but if the supplier can't get the product, it doesn't do you any good."
Local propane companies work around the clock
     With the pipeline not keeping up, local propane companies have resorted to trucking propane from Kansas, Missouri, South Dakota, Nebraska, Oklahoma and even Texas. Many are under contract to their customers, and transport propane at a loss to themselves.
     At Dillavou Oil, Johnson estimates they spend anything from $1000 to $1500 more per semi-load for transportation costs.
     "It's basically just taking money out of our pockets…" Johnson said. "There's plenty [of propane], but it's not coming off the pipeline fast enough."
     Those who choose to wait for propane to come through the pipeline sometimes sit in line for 34 to 36 hours.
     "Sometimes they don't have it. Other times they get it, but it's a drop in the bucket compared with what we need. Guys wait in lines for days. Some haulers gave up trying to get it out of there because you have to wait for so long sitting there, not accomplishing anything for days. It makes sense to drive further out," Lindeman said. "It's a shame. We're sitting on a record amount of propane, and propane prices themselves are very reasonable. … Because of additional freight having to pay for semi loads to be brought up from other parts of the country, it's killing marketers on contract. … It comes at a big financial hit to us to get gas out of state. But that's the only option to meet demand right now."
     And that's what they're doing.
     "My drivers are working around the clock hauling LP on roads around the state to bring some in," Schwartzkop said.
     Even in Kansas, Johnson said sometimes his drivers have to wait six to eight hours in line due to the number of trucks from Iowa.
     The trip itself takes time.
     "We're forced to haul loads out of western Kansas. It's 36 hours turn-around to get a load of gas," said Jon Keninger of IAS.
     With the supply limited, each of these companies subscribes to the same policy.
     "Human life is our number one priority. Taking care of people and keeping them warm is number one. Animals come after that. There would be huge livestock losses if we didn't keep livestock warm. And grain dryers, we want every gallon to go to them that can, but that's our lowest priority," said Lindeman. "Most people understand that when things are tight, we have to be careful of what gallons are going to and prioritize the right stuff."
     Lindeman took the call for this interview on his headset, as he hauled propane late into the evening.
     "I have not had a day off in almost four weeks. I work seven days a week. Many times, I'm out after midnight still hauling gas if I can get enough of it," Lindeman said. "Other propane trucks are hauling at that time of night too."
     Keninger added that every supplier is in the same boat.
     "We've been working extra-long hours hauling propane in to take care of our customers, and we've had a lot of farmers very upset with us, regretfully so…" Keninger said. "Everyone is trying to do their best to take care of everybody's needs."
     Iowa State Senator Annette Sweeney, who represents the 25th District, which includes southern Butler County, is a farmer herself and has been working around the clock to bring attention to the issue and help find a resolution. She implores those affected by the shortage to be courteous and patient in the face of hardship.
     "Haulers when they show up at a farm to fill are getting physically threatened…" Sweeney said. "People are passionate and emotional because it effects their bottom line. We all understand that."
     But confrontation just takes time away from work getting done.
     "They need to just be brief and frank when they are updating their connection points on what's going on," Sweeney said.
     Schwartzkop has also heard stories of propane truck drivers being threatened. Don't blame your driver, is his message.
     "There's not much anybody in Iowa can do. This situation is out of the hands of marketers and co-ops unfortunately. Everybody needs to be patient, be calm, and be understanding. It's no easier for your propane driver or marketer to give you bad news about your propane supply … than for you to receive it…" Lindeman said. "Everyone is working day and night in the whole industry. Together we're doing everything we can to get this harvest done and get safely into this heating season, but it may get worse still before it gets better."
     Farmer Ron Salge of Bristow has heard of farmers being out of propane anywhere from a day to a week. He has been farming since 1979, and, while his supplier has been able to keep his farm operating so far, Salge has never seen a propane shortage so severe in this area.
     "It's not good. Some people who have been in the industry longer than I have say it's the worst they've ever seen," Schwartzkops said.
     But there's always hope. The Reints family loves farming for its unexpected challenges. Schmadeke added that everything always eventually works out.
     "I have faith that we'll get [the harvest] done. It will just take extra time," Salge said. "Be patient and don't blame your LP supplier. It's not their fault."
Moving forward
     "The real issue is … the pipeline situation not being able to meet these seasonal peaks," Ryan Lindeman of Allison Propane said.
     What can propane suppliers do to deal with this issue?
     "Propane companies need to invest in more storage, and consumers/end users need to invest in more storage to get more up here to us out of sight during times of year where demand is low, like the summer," Lindeman said.
     Over the past 30-40 years, he said, there hasn't been a lot of investment in propane infrastructure in the Midwest, as companies operate on a low margin and often aren't able to invest more in their own infrastructure and tanks.
     "It ultimately needs to happen to avoid these types of situations," Lindeman said.
     Keninger, Location Manager at IAS in Ackley, agrees.
     "Going forward next year, we're going to put more storage in, and our customers are going to put more storage in in hopes of being prepared next time," Keninger said. "I've done this for 32 years, and I've never experienced it like this."
Government response
     At the state level, legislators have been seeking a solution.
     "I support efforts by state and federal officials to address the propane crisis. I stand ready to work for solutions to solve this problem. This certainly is another hardship for our already struggling farmers," said District 27 State Senator Amanda Ragan.
     State Senator Annette Sweeney has been devoting her days to doing everything in her power to help find a solution, working with the Iowa Secretary of Agriculture's office, Governor's Office and Iowa Corn Growers Association office.
     "We have all been working together on this. I know at the governor's office there are over five staffers on this issue…" Sweeney said. "We only have two suppliers selling LP to Iowa, and we only have a few terminals, so we're trying to get to the bottom of these allocation amounts they're sending up the pipe."
     The governor's office has addressed load limits and service hour restrictions.
     "The governor is also working with the Federal Energy Resource Commission to see if we can dig into why this is going on," Sweeney said.
     Amid consistent feedback from farmers, co-ops, and others around Iowa about an insufficient supply of liquid propane gas in the state, Senator Joni Ernst and Senator Chuck Grassley have also been pushing for the Federal Energy Regulatory Commission (FERC) to consider its regulatory options to prioritize pipeline shipments of propane to Iowa.
     In response, the FERC recently announced it will begin an alternative dispute resolution (ADR) process to address the liquid propane shortage impacting the Midwest. The ADR will bring together pipeline companies, shippers and their representatives to explore actions FERC and the industry can take to alleviate the shortage, which has been mostly due to infrastructure and distribution issues, as there is not currently a nationwide shortage of propane.
     "I've heard from farmers, propane marketers, co-ops and manufacturers in Iowa about how the lack of access to propane is affecting operations and threatening their livelihoods," Grassley said. "This announcement is a good first step, and I'm glad to see that FERC is taking this issue seriously. I'll continue to work with my colleagues and coordinate with state officials to keep a close watch as this process moves forward."
Category:
Tribune-Journal & Star
101 N. Main St.
P.O. Box 788
Clarksville, IA 50619
Phone: 319-278-4641
Mid-America Publishing
This newspaper is part of the Mid-America Publishing Family. Please visit www.midampublishing.com for more information.