Rex Knapp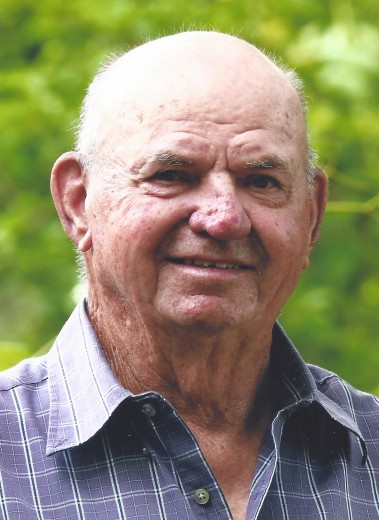 Rex Paul Knapp, age 86, of Clarksville, Iowa was born the son of Donald and Norma (Konarske) Knapp on July 24, 1935 at home in Shell Rock, Iowa. He received his education from the Greene High School where he graduated in 1953. Rex was inducted into the United States Army in May of 1958. He completed his basic training at Fort Hood in Texas and then was stationed in Germany during his service. He was then honorably discharged February of 1960.
Rex was united in marriage to Joann Francis Vos at the American Reformed Church in Chandler, Minnesota on August 4, 1961. The couple made their home on a farm west of Clarksville where they raised their three children: Mark, Patti, and Kevin. Rex worked on the farm and at Hydro Tile in Nashua for 10 years. The family then moved into Clarksville in 1976 where Rex worked as a letter carrier for the U.S Post Office and then later retired in 2003. In retirement Rex took care of many lawns and snow removal for local businesses and the residents of Clarksville.
Rex was an active member of the Immanuel United Church of Christ in Clarksville. Rex served on the council and participated in Men's Fellowship. He was also a member of the Clarksville AMVETS where he held several offices. Rex was able to participate in the Honor Flight to Washington, DC, accompanied by his son, Mark.
Rex enjoyed going fishing and hunting with his sons for nearly 30 years. He also enjoyed taking tractor rides and especially spending time with his three grandsons.
Rex passed away on Tuesday, November 16, 2021, at his home in Clarksville, Iowa, due to natural causes. He was preceded in death by his parents and one sister, Donna Greve.
Rex is survived by his loving wife of 60 years, Joann Knapp of Clarksville; three children, Mark Knapp of Aplington, IA, Patti Lahr of Mason City, IA, Kevin (Angela) Knapp, of Center Point, IA; one brother James (Roberta) Knapp of Clarksville, IA; three grandchildren, Austin Knapp of Oshkosh, WI, Kolton (Mackenzie) Knapp of Marshalltown, IA, and Alex Knapp of Center Point, IA.
Memorial services were held at 1:30 p.m. Tuesday, November 23, 2021, at the Immanuel United Church of Christ Church in Clarksville, with Pastor Jim Brown officiating. Organist was Sharon Leerhoff and she accompanied the congregation as they sang "What A Friend We Have In Jesus" and "Old Rugged Cross". Burial was held at Lynwood Cemetery in Clarksville with Austin Knapp, Kolton Knapp, Alex Knapp, Mackenzie Knapp, Calvin Mennenga, and John Dougherty serving as casketbearers. Robert Wamsley and Robert Litterer served as honorary casketbearers. The Clarksville AMVETS Post #30 and Iowa Army National Guard Honor Guard provided military rights.
Visitation was held from 4:00 p.m. to 7:00 p.m. on Monday, at Redman Funeral & Cremation in Clarksville, and one hour before services on Tuesday. Memorials may be directed to the family. Redman Funeral & Cremation in Clarksville was in charge of arrangements. Online condolences may be left at www.redmanfuneral.com
Category:
Tribune-Journal & Star
101 N. Main St.
P.O. Box 788
Clarksville, IA 50619
Phone: 319-278-4641
Mid-America Publishing
This newspaper is part of the Mid-America Publishing Family. Please visit www.midampublishing.com for more information.