Maurine L. Wagoner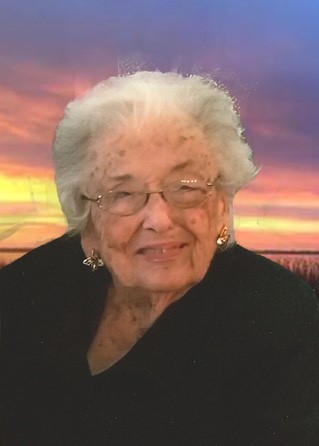 Maurine L. Wagoner (101) rejoined her husband Wag on June 26, 2020. Maurine was born the oldest of three children to Roy and Cleota (Bowen) Lepley on March 4, 1919 in Maloy, Iowa.  While in school, she won and received medals in multi-State Spelling Bees.  After graduating from Maloy High School at the age of 16 as valedictorian, she attended NW Missouri State College in Maryville, MO, to obtain her teaching degree. While there, a dashing young basketball player, Darryl "Wag" Wagoner, played a good offense, and she consented to marry him on October 21, 1939.  She had to be granted special permission to fulfill her teaching contract in Maloy, Iowa, as teachers were not allowed to be married!  They lived in Adel, Waukee, Atlantic, and Fremont, Nebraska, before settling in New Hartford in 1955.  Maurine started her career as a fourth grade teacher in the New Hartford Community School system that year.  She influenced countless lives and retired from there in May, 1982.   She was often referred to as a "favorite" teacher.  She and Wag wintered many, many years in Lakeland, Florida, after they retired.
     She and Wag were blessed with three children. Daughter, Lynette Adams of Iowa City, son, Wayne (Georgine) Wagoner and daughter, Vickye (Stan) Thompson both of Parkersburg.
     She is survived by eight grandchildren and 18 great-grandchildren. Rick Adams and his daughter, Zohara, of Slocan, BC, Canada. Angela Maurine Adams and sons, Connor and Patrick, and daughter, Maurine, of Minneapolis, MN.  Wade (Amanda) Wagoner and daughters, Ellie and Emma and son, Sam of Altoona, Iowa. Bret (Jenny) Wagoner and daughter, Brady Maurine and son, Landon of Bondurant, Iowa.  Jed (Rachel) Thompson and daughters, Lauren, Paige, McKenna and two step-children Haley and Logan Schimanski of Wilton, Iowa.  Tessa (Luis) Victorio and daughters, Mia Maurine and Lila of Chula Vista, CA. Luke (Megan) Thompson and daughters, Lily, Avery and Macy Maurine of Wilton, Iowa. Taryn (Eric) Schmidt and daughter, Zuri of Lakeville, MN. 
     She was preceded in death by her parents, her husband, Wag in 2004; 1 sister, Lynette Lepley and 1 brother, Kenneth Lepley.
     Maurine was very active in her church, the United Methodist Church in New Hartford. She taught fourth grade Sunday School for years and was on many committees.  When the church wanted to expand and didn't have room, she graciously donated some of her land to make that possible.  She was also active in the New Hartford Women's Club.  Education and reading were a passion and she was instrumental in obtaining the building and funds for the current New Hartford Library.  Maurine was an avid sports fan. She liked the Iowa State Cyclones and Detroit Tigers but really enjoyed most sporting events.  Maurine was recognized as the second oldest election poll worker in the State of Iowa in 2016.
            Services will be Sunday, July 5 at the Gazebo Park in New Hartford, Iowa.  There will be a 2 p.m. visitation and should you wish to stay, the service will start at 2:30 followed by lunch. Masks are preferred and will be available.  A private family burial will follow at Oak Hill Cemetery in New Hartford.  In lieu of flowers, memorials may be directed to the family.  Condolences may be left at www.DahlFuneralHome.com
Please visit funeral home website here
Category:
Tribune-Journal & Star
101 N. Main St.
P.O. Box 788
Clarksville, IA 50619
Phone: 319-278-4641
Mid-America Publishing
This newspaper is part of the Mid-America Publishing Family. Please visit www.midampublishing.com for more information.