Mathias "Pete" Jensen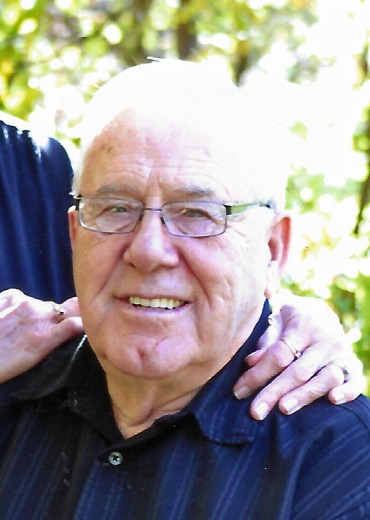 Mathias Peter Jensen, Jr., best known as "Pete," age 85, of Clarksville, was born the son of Mathias Peter and Bessie Rebecca (Burnell) Jensen on April 29, 1935, in York, Nebraska. At the of age 7, his family moved to Dike, Iowa. In 1953 Pete graduated from Plainfield High School in Plainfield, Iowa. He also attended Northwestern College in Minnesota for one semester. In 1954, Pete enlisted in the United States Army and served during the Korean War in Japan as a supply sergeant. He received an honorary discharge in 1956.
    On July 15, 1956, Pete was united in marriage with Mary Ellen Marquand. Their first home was in Denver, Iowa, and Pete worked at Walnut Dairy in Waterloo. They then moved to Clarksville and started dairy farming. In 1960, the family moved two miles east of Clarksville, where they had a dairy farm until 2018. Pete always enjoyed dairy farming and field work, especially running the chopper. Pete farmed till last year.
    Pete was a member of Clarksville Church of Christ, where he served as an elder for many years. He was an active part of the Open Door Youth Center since its conception in March 2004. Pete was a member of the Butler County Farm Bureau Board of Directors for 50 years. He won an award for Distinguished Service to Agriculture in 1994; Pete was named Iowa Distinguished Dairyman. He was also a member of Butler County Dairy Promoters, Clarksville AMVETS, Clarksville Lions, and served as Butler County Township Trustee. Pete helped start Northeast Iowa Christian Service Camp in Bristow. Iowa.
    Pete was influenced by his great aunt, Dora, who instilled in him the love of traveling. Pete and Mary traveled to Australia, New Zealand, Alaska, Hawaii, Europe and Mexico. Pete was able to visit the Jensen family home in Denmark. In 2017, Pete traveled to Uganda, Africa. Pete's joy was spending time with his family, his kids, grandkids and great grandkids. Pete influenced everyone he met by his caring, kindness and love.
    Pete died Tuesday, November 24, 2020, at Unity Point – Allen Hospital in Waterloo, Iowa, of natural causes. Pete is preceded in death by his parents, three brothers, Robert Lyle, George and John Jensen; a sister, Alice Marie (August) Asmus; a niece, Mary Jean; and his in-laws, Verto and Ruth Marquand.
    Pete is survived by his wife of 64 ½ years, Mary Ellen of Clarksville; three children, Debra (Dennis) White of Clarksville, Pamela (David) Bolin of Clarksville and Marque (Janeen) Jensen of Minneapolis, Minnesota; grandchildren, Kristie (Aaron), Brian (Kim), Kevin (Angie), Kathie (Anthony), Samantha, Nick, Matthew (Ashley), Daniel (Lynn), James (Nicole), Jared (Mattie), Tyler (Katie) and Morgan (Joshua); great grandchildren, Natalie, Reagan, Addison, Aubrey, Mason, Henry, Gavin, Gabriel and baby due in February, Mathias, Asher, Makenna, Abram, Dillin, Kessiah and Justus, Noah, Foster, Amara, Vance, Judah, Payton and Claire; Vivvian, Marquelle, Reggie and baby due in December; one brother, Donald (Joan) Jensen of Los Lunas, New Mexico. Honorary family, Tony and Linda Harvey and their children, Joel and Rebekah (Drake) Tilson. Pete additionally leaves behind beloved "adopted" children who cherished him as father/grandfather figure from all around Butler County to Minneapolis, from Mexico to Germany and Japan. Pete's kids cherish their memories and knew they were always welcome at Pete and Mary's.
    At 2:30 p.m., on Saturday, November 28, the public was invited to join the family at the Clarksville Church of Christ for a horse drawn processional to the cemetery. Graveside services were held at 3:00 p.m., at the Antioch Cemetery in Clarksville. Pastor Val Swinton officiated the service. Marque Jensen performed a tuba solo of "Amazing Grace". Daniel Bolin accompanied on the accordion as the attendees sang "In the Garden" and "He Owns The Cattle On A Thousand Hills". Casketbearers were Jared Jensen, Tyler Myer-Jensen, Matthew Bolin, Daniel Bolin, James Bolin, Aaron Cocking and Anthony Zoellner. Honorary Casketbearers were Kristie Cocking, Kathie Zoellner, Morgan Chitwood, Ashley Bolin, Lynn Bolin, Nicole Bolin, Nick White, Josh Chitwood, Samatha White, Katie Meyer-Jensen, Brian White, Kim White, Kevin White, Angie White, Joel Harvey, Rebekah Tilson, Jack Du and Cuckoo Croweder. Military rites were conducted by Clarksville AMVETS Post #30.
    Special note: The family is planning a Celebration of Life on July 10, 2021, at Pete and Mary's place.
    Memorials may be directed to Clarksville Youth Center, Northeast Iowa Christian Service Camp or the family.
    Redman-Schwartz Funeral Home in Clarksville was in charge of arrangements. Online condolences may be left at www.redman-schwartz.com
Category:
Tribune-Journal & Star
101 N. Main St.
P.O. Box 788
Clarksville, IA 50619
Phone: 319-278-4641
Mid-America Publishing
This newspaper is part of the Mid-America Publishing Family. Please visit www.midampublishing.com for more information.