LaVerna Jacobs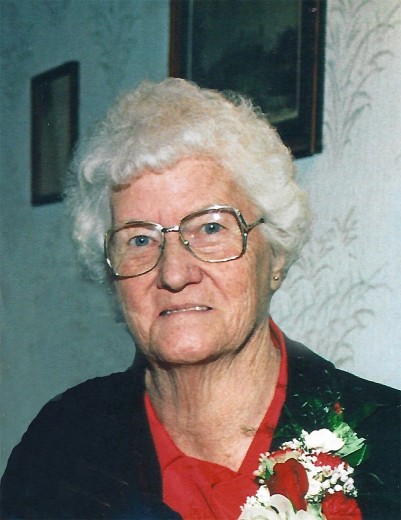 LaVerna Jacobs, age, 92, of Clarksville, Iowa, was born the daughter of Ray and Hazel (Coplen) Loomis on August 15, 1929, at their home in Clarksville.  LaVerna graduated from Clarksville High School.
On April 18, 1948, LaVerna was united in marriage with Robert J. Jacobs at the Little Brown Church in Nashua, Iowa.  After their marriage, the couple lived in Clarksville.  In 1962, they moved to a farm east of Clarksville.  While on the farm, LaVerna helped Robert with the farming as she raised their family.  LaVerna lived in Allison Assisted Living from 2008 to 2013, then the Assisted Living in Clarksville until 2016, when she entered the Clarksville Care Center.
LaVerna was a member of St. John Lutheran Church in Clarksville. She was part of the Women's Circle and helped make soap for the church's missions support. LaVerna enjoyed being outdoors, feeding the birds and caring for their pets, especially her cats.  She loved cooking, baking, quilting, sewing, gardening and canning.  She also painted pictures on shirts.  LaVerna loved spending time with her family, especially her grandchildren.  
LaVerna died Sunday, November 14, 2021, at Clarksville Skilled Nursing & Rehabilitation Center in Clarksville, of natural causes.  She is preceded in death by her husband of nearly 60 years, Robert on March 5, 2008; two sons, Allan and Bobby Joe; a son-in-law, Kenton Stoddard; her parents; two sisters, Vera Hinders and Fern Carroll; one brother, Lawrence Loomis and an infant brother, Bobby Loomis.
LaVerna is survived by two sons, Randy Jacobs of Waverly, Iowa, Joel (Samantha) Jacobs of Bussey, Iowa; four daughters, Carol Stoddard of Waverly, Sally (Bob) O'Hare of Waverly, Nancy (Dean) Johnson of Allison, Iowa and Dixie Jacobs of Shell Rock, Iowa; 12 grandchildren; 13 great-grandchildren; and many nieces and nephews. 
A Private Family Graveside service was held at 12:00 p.m. Friday, November 19, 2021, at the Lynwood Cemetery in Clarksville with LaVerna's family serving as Casketbearers. A Memorial Service will be held at 1:30 p.m., Tuesday, November 30, 2021, at the St. John Lutheran Church in Clarksville, with Pastor Charles Underwood officiating. Organist will be Sharon Leerhoff and she will accompany the congregation as they sing "Borning Cry", "Old Rugged Cross", and "In The Garden". 
Memorials may be directed to Alzheimer's Association or Cedar Valley Hospice. Redman Funeral & Cremation in Clarksville is in charge of arrangements. Online condolences may be left at www.redmanfuneral.com
Category:
Tribune-Journal & Star
101 N. Main St.
P.O. Box 788
Clarksville, IA 50619
Phone: 319-278-4641
Mid-America Publishing
This newspaper is part of the Mid-America Publishing Family. Please visit www.midampublishing.com for more information.