Kenneth Vance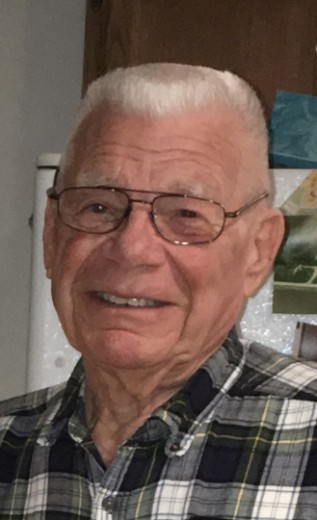 Kenneth A. Vance passed away on Sunday, November 7, 2021. He was born on March 15, 1929, near Clarksville, the son of Willie Floy and Tena Vance. He and his brothers went to live with their grandparents, Cyrus and Bessie Jane Clark Vance, when their parents divorced. They lived on a farm in Clarksville where they helped milk cows and deliver that milk to grocers and customers. He attended Clarksville High School where he was active in music and sports. He had a brief marriage after high school and had a daughter named Terri.
Kenny enlisted in the Air Force in early 1951 and was honorably discharged in 1955. He attended Electronic Air Borne School at Keesler Air Force Base in Biloxi, MS. Kenny married LaVonne Frey on May 14, 1951 in Gulfport, MS. Their daughter Susan was born on the Air Base in Biloxi later that year. Kenny was transferred to Truax Air Base in Madison, WI late 1951. He adjusted radar on fighter jets on the base.
Upon discharge, Kenny attended ISTC (UNI). He graduated with a BA in Social Studies, Safety, and Physical Education. His first job was teaching and coaching in Chester, IA. After school consolidation he became building principal while teaching Junior High classes and coaching. After six years Kenny and family moved to New Hartford where he taught and coached football and basketball. He later became High School Principal. He continued his education receiving a MA in both Elementary and Secondary Education with a lifetime Superintendent Endorsement.
Kenny was also Principal in Preston for three years before returning to Clarksville where he served as Jr/Sr Principal for fourteen years and four years as Superintendent. He loved his job, the kids and teachers who worked for him. Kenny was active in his community serving on his church board and Lion's Club.
In his retirement he loved to go fishing. He and LaVonne took many trips to Minnesota and Texas. He also did Canadian trips with "the guys". He also started baking and eventually took over all the cooking. He was an excellent cook, always doing the Thanksgiving turkey and Christmas dinner for the extended family gatherings. He spent a lot of time outside in the yard and gardening. His granddaughter, Danielle, spent many summers with her grandparents. She learned to love cooking and eating fresh vegetables and strawberries from the garden. They took day trips where Grandpa would entertain her with his stories and old-time country music. Yeehaw!! Kenny also loved music. He was a great singer and participated in variety shows, in both Shell Rock and Clarksville. He had a quick wit and could always make you laugh or roll your eyes. He will be greatly missed by his family. The memories are many and varied. 
Kenny is proceeded in death by his grandparents and parents. He is survived by his wife of 70 years, LaVonne Frey Vance; three brothers, Frank Vance of Clarksville, Danny (Florence) Vance of Clarksville, and Tom (Edna) Vance of California; two daughters, Susan Vance of Waterloo and Terri (Ron) Love of Everett, WA; three grandchildren, Danielle Vance of Waterloo, Jon (Elaine) Love of Portland, OR, and Molly (Charles) Gill of Everett, WA; and five great-grandchildren, Dominic Vance, Arlo and Grayson Love and Charles IV and Alwyn Gill. 
Kenny's strongest characteristic was "always treat everyone fairly and equally". Give opportunity and a chance to succeed. 
Visitation was held from 1:00 p.m. to 4:00 p.m. on Saturday, November 13, 2021 at Redman Funeral & Cremation in Clarksville, Iowa. A private family internment will be held at a later date at the Lynwood Cemetery in Clarksville. Memorials may be directed to the family. Redman Funeral & Cremation in Clarksville was in charge of arrangements. Online condolences may be left at www.redmanfuneral.com
Category:
Tribune-Journal & Star
101 N. Main St.
P.O. Box 788
Clarksville, IA 50619
Phone: 319-278-4641
Mid-America Publishing
This newspaper is part of the Mid-America Publishing Family. Please visit www.midampublishing.com for more information.