John Helmus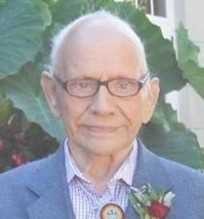 John (Johan) Jacob Helmus was born on September 24, 1931 to Dirk Helmus and Jantze Bakker Helmus at Middlestum, the Netherlands. He entered his heavenly home on December 6, at the age of 89 years.
     As a child he attended a Christian grade school. His church youth group found him actively presenting topics and taking part in skits. In his teens he was apprenticed to a clockmaker for a while and worked for several farmers. Because of lack of work in the Netherlands, the day after his 19th birthday he set sail for the United States with his mother's parting words "Don't forget Jesus" resounding in his mind.
     He arrived finally in Grand Rapids, Michigan and immediately worked hard to learn the English language. When a job on the farm didn't work out because of his allergies, he worked in a large club in Grand Rapids doing janitor work. He loved his adopted country very much and became a naturalized citizen. He felt God leading him to study for the ministry.
     After receiving a college diploma from Northwestern Junior College, Orange City, Iowa and an honorary diploma from NW Classical Academy he continued his education at Hope College and Western Theological Seminary both in Holland, Michigan.
     On June 15, 1956, he married the love and light of his life, Elaine Hesselink. To this union were born 8 children. With his wife, Elaine, John served churches in Canada, South Dakota, Iowa, Omaha Indian Reservation in Nebraska, and New York.
     They retired to Aplington, Iowa and later moved to Jefferson, Iowa to be closer to family. John enjoyed reading about Abraham Lincoln, gardening, bird watching, and bicycling.
     John "never forgot Jesus" and was a faithful husband, father, grandfather, and great grandfather. The words the master told his servant in the Bible can surely apply to John. "You have been a good and faithful servant."
     He is survived by Elaine, his wife of 64 years and his 8 children, Bryan Helmus, Des Moines, Iowa, Calvin and (Jaime) Helmus, Rock Valley, Iowa, Rita and (Mark) Rasmussen, Jefferson, Iowa, Laura Helmus and (Larry Dowd), Jefferson, Iowa, Ivan Helmus, Waukee, Iowa, Yvonne and (Tod) Uhlenhopp, Clear Lake, Iowa, Coreen and (Dave) Herring, Carlisle, Iowa, and Rose and (Alan) Weber, South Sioux City, Nebraska. John loved his 15 grandchildren and their spouses and his 21 (with 5 more on the way) great grandchildren brought him much joy. He is survived by 1 sister, Coba Boersema, 1 sister-in-law, Arendina Helmus in the Netherlands and numerous nieces and nephews in the Netherlands and Canada.
     Those preceding him in death were 1 child, Melody Helmus and 1 great grandchild. Also preceding him in death, were his parents, 3 brothers, Henk, Jacob, and Dirk, 1 sister, Jellie Hoeksema, and brothers-in-law, Hank Boersema and Harm Hoeksema.
Cards may be mailed to:
Elaine Helmus
1000 W. Washington St., Apt 116
Jefferson, IA 50129
Category:
Tribune-Journal & Star
101 N. Main St.
P.O. Box 788
Clarksville, IA 50619
Phone: 319-278-4641
Mid-America Publishing
This newspaper is part of the Mid-America Publishing Family. Please visit www.midampublishing.com for more information.