Gordon Earl Norton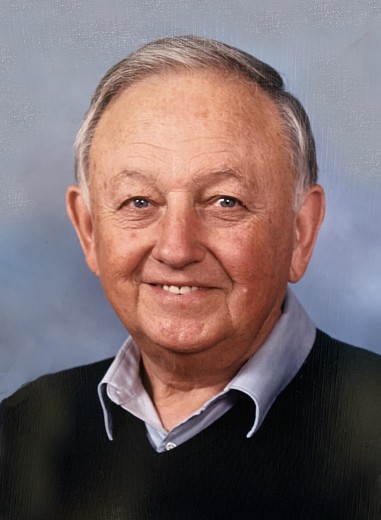 Gordon Earl Norton, age 86, of Clarksville, Iowa, was born the son of Earl and Anna Grace (Bonenko) Norton on August 30, 1934 in rural Clarksville.  Gordon graduated from Clarksville High School in 1952.
Gordon married Betty L. Brandos.  To this marriage, Susan, Jana, Rick, Randy, Jackie, Scot, Keith and Kevin were born.  The couple later divorced.  Gordon started Norton Sawmill and Pallet company.  He was a walnut buyer for Hills Brothers Veneer in Indiana.  Gordon then married Darlene Manning and the couple lived in Mason City.  In 1981, Gordon purchased land in Belize and cut telephone poles for the Belize Government. Gordon and Darlene divorced and Gordon moved to Decorah.  He started Norton Tie & Timber in 1993 and purchased the rail line from Readlyn, Iowa to Denver, Iowa. Gordon moved back to Clarksville in September of 2020.
Gordon enjoyed snowmobiling and traveling. He attended Indianapolis 500 several years and enjoyed spending time out in nature.  Gordon traveled many miles and went through several Cadillacs on his many purchasing trips. Gordon's most prized purchase was a walnut tree in New Ulm, Minnesota for $10,000.
            Gordon died Thursday, October 29, 2020, at Clarksville Skilled Nursing & Rehabilitation Center in Clarksville, of natural causes.  Gordon is preceded in death by his parents, Earl and Anna Norton and two brothers, LaVern and Gene Norton.
            Gordon is survived by eight children, Susan (Chuck) Norton of Ackley, Iowa, Jana Norton of Cedar Falls, Iowa, Rick (Mary) Norton of Mason City, Iowa, Randy (Reona) Norton of Ohio, Jackie (Jeff) Ridder of Cedar Falls, Scot Norton of Evansdale, Iowa, Keith Norton of Orlando, Florida and Kevin (Clarissa) Norton of Cedar Falls; twenty grandchildren; many great-grandchildren; and one great-great grandson; one brother, Jim Norton of Clarksville; and one sister, Connie Anderson of Wichita, Kansas.
            A private funeral service was held at 2 p.m., Monday, November 2, 2020, at the Redman-Schwartz Funeral Home in Clarksville, with Pastor Charlie Underwood officiating.  Burial was at Lynwood Cemetery in Clarksville with Matthew Gray, Andy Gray, Paul Gray, Jay Bacon, Amber Randall, Jassen Bacon and Amanda Ferrell serving as Casketbearers.  Honorary Casketbearers were Michael Gray and Jeremy Norton.
            A public visitation was held from 4 p.m. to 7 p.m. on Sunday at the Redman-Schwartz Funeral Home in Clarksville.  Memorials may be directed to Hospice. Redman-Schwartz Funeral Home in Clarksville was in charge of arrangements.  Online condolences may be left at www.redman-schwartz.com
Category:
Tribune-Journal & Star
101 N. Main St.
P.O. Box 788
Clarksville, IA 50619
Phone: 319-278-4641
Mid-America Publishing
This newspaper is part of the Mid-America Publishing Family. Please visit www.midampublishing.com for more information.