Donna Lee Kelm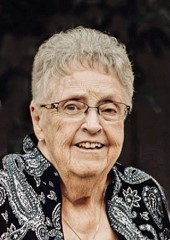 Donna Lee Kelm, age 78, of Clarksville, Iowa, was born the daughter of William and Hilda (DeGroote) Sells on December 21, 1941, in Waterloo, Iowa.  Donna was a life-long resident of Clarksville and she graduated from Clarksville High School in 1960.
On June 5, 1960, Donna was united in marriage with Frederick William Kelm at St. John Lutheran Church in Clarksville.  Donna enjoyed being a housewife, mother and grandmother while also working part-time at Borglum Nursery and Clarksville Pharmacy.
            Donna was a member of St. John Lutheran Church in Clarksville and the AMVET Auxiliary.  She enjoyed reading and arranging flowers.  Donna took joy in attending her grandchildren's school and athletic events.  Donna loved spending time with her family and adored her grandchildren and her great-grandson.
Donna died Saturday, June 27, 2020, at Unity Point Health – Allen Hospital in Waterloo, Iowa.  Donna is preceded in death by her parents, William and Hilda Sells, a sister, Mary Hibner and a brother-in-law, Danny Muller.
Donna is survived by her husband of 60 years, Fred of Clarksville; two children, David (Rachelle) Kelm of Clarksville and Lori (Chris) Backer of Clarksville; six grandchildren, Amy (Adam) Roepke, Megan Backer, Reanna (Cameron) McCallister, and Gavin, Lauren & Marlee Kelm; one great-grandson, Harrison Roepke; one brother, Bill (Angie) Sells of Hampton, Iowa; and one sister, Linda (Dan) Brammer of Hampton.
            Graveside services were held 10:00 a.m., Wednesday, July 1, 2020, at Lynwood Cemetery in Clarksville.  Pastor Charlie Underwood officiated the service.  Casketbearers were Chris Backer, David Kelm, Adam Roepke and Cameron McCallister.  Gavin Kelm was Honorary Casketbearer.
            Visitation was held from 4:00 p.m. to 7:00 p.m. on Tuesday at the Redman-Schwartz Funeral Home in Clarksville.  Memorials may be directed to the family.  Redman-Schwartz Funeral Home in Clarksville was in charge of arrangements.  Online condolences may be left at www.redman-schwartz.com
Please visit funeral home website here
Category:
Tribune-Journal & Star
101 N. Main St.
P.O. Box 788
Clarksville, IA 50619
Phone: 319-278-4641
Mid-America Publishing
This newspaper is part of the Mid-America Publishing Family. Please visit www.midampublishing.com for more information.