David Lyman Ghormley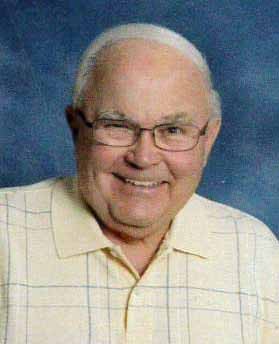 David Lyman Ghormley, 83, of Waverly, Iowa passed away on Monday, January 11, 2021 at Unity Point Health – Allen Memorial in Waterloo.
     Dave was born in Des Moines, Iowa on August 13, 1937, the son of Hugh and Mary (Hall) Ghormley. On July 4, 1949, he was baptized into the Disciples of Christ Church in Des Moines. He attended Des Moines schools through seventh grade and Iowa Falls schools through eleventh grade, graduating in 1955 from Union High School in Union, Iowa.
     On September 28, 1956, he was united in marriage to Janet Bradley in Union. Three daughters were born of that marriage: Lynia, Erin and Lisa. He and Jan were later divorced. He then married Barbara Ranson in 1980, and they later divorced. He and Dixie Brandt were married at Redeemer Lutheran Church on July 8, 1989 in Waverly.
     Dave received his Bachelor of Music Education degree from Drake University in 1959, his Master's degree in Guidance and Administration from Drake in 1965 and his school superintendent's certificate from UNI in 1983. He taught music in Dallas County, Iowa; was high school counselor in Iowa Falls, was an insurance and real estate broker and manufacturer's rep.; Jr-Sr High School Principal at Janesville; K-12 principal at Allison-Bristow Community School; Supervisor of Direct Response Underwriting at CUNA Mutual Insurance Company; and most recently, Facilities Manager at Redeemer Lutheran Church until his retirement on January 1, 2006.
     He was active in church work and service clubs, including Lions, Kiwanis, Optimists and Full Gospel Businessmen's Fellowship. He was soloist and choir director in several churches and thoroughly enjoyed many years singing in gospel quartets. His church membership involved him in many roles, including Sunday school teacher, chairman of several committees, Elder, Chairman of the Board, Choir Director, Bus Ministry Coordinator and recognition as "Iowa's Outstanding Young Religious Leader" (by Iowa Jaycees) in 1971.
      Left to mourn his loss are his three daughters, Lynia Ghormley (Greg Huff) of Colfax, Erin (Bjorge) Ghormley-Austad of Oslo, Norway, Lisa (Bill) DuWell of Mineral Point, Wisconsin; two step-sons, Mark (Jeannie) Brandt of North Myrtle Beach, South Carolina and David (Linda) Brandt of Merritt Island, Florida; five grandchildren, Frank DuWell, Minken and Rebecca Austad, Alexander and Benjamin Huff; eight step grandchildren, Chad Brandt, Brittany Rihn, Heather, Skyler and Ryan Brandt, Season Collins, Tyler (Annie) Koch and Tiffany Raetz, six step-great grandchildren, Athena Levad, Taylor Collins, Alexander and Juliette Koch and Hayden and Isabella Hice; sister, Ruth Smith of Cape Fair, Missouri and brother, Hugh Ghormley of Des Moines. He was preceded in death by his parents; his wife, Dixie on January 27, 2014, two infant sisters and sister, Kate Knapp.
     Private family graveside service will be held on Thursday, January 14, 2021 at 2:00 pm at Harlington Cemetery in Waverly with Pastor Corey Smith from Redeemer Lutheran Church in Waverly officiating. Memorials may be directed to the Ghormley family for a later designation in Dave's name. Online condolences can be left at www.kaisercorson.com.
     Kaiser-Corson Funeral Home of Waverly, Iowa is assisting the Ghormley family with arrangements.    319-352-1187
Category:
Tribune-Journal & Star
101 N. Main St.
P.O. Box 788
Clarksville, IA 50619
Phone: 319-278-4641
Mid-America Publishing
This newspaper is part of the Mid-America Publishing Family. Please visit www.midampublishing.com for more information.