Darlene M. Benning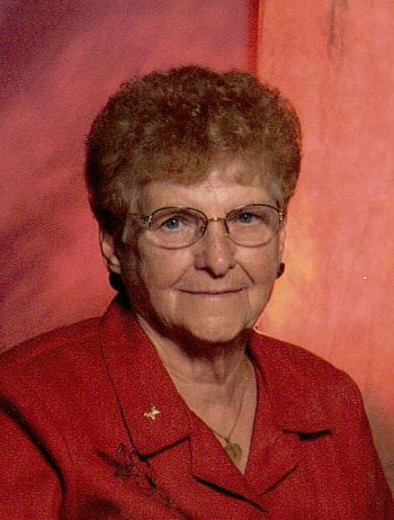 Darlene M. Benning, 89, of Waverly, formerly of Plainfield, died Tuesday, December 22, 2020, at the Bartels Lutheran Retirement Community in Waverly. 
     Darlene was born on February 14, 1931, in Grundy County, near Parkersburg, Iowa, the daughter of Ehme and Jennie (Eckhoff) Rinnels. She was baptized in the Methodist Church in Rockwell, Iowa. She attended country school near Parkersburg and then attended Chapin High School in Chapin. She was united in marriage to Clarence T. Benning on December 31, 1953 at the Little Brown Church in Nashua. The couple farmed near Clarksville and in 1972, the couple moved to Plainfield. Darlene worked at Fred's Super Value in Waverly for 10 years and retired from Bartels Lutheran Retirement Community in Waverly after 50 years.
   She was a former member of St. John's U.C.C. Pleasant Valley, St. John's U.C.C. Pleasant Hill, rural Nashua, Iowa and was currently a member of Trinity United Methodist Church in Waverly. Darlene enjoyed quilting, knitting, making gifts for her family and friends; she was an avid sports fan, especially the Cubs, chuck wagon races, and wrestling. She loved being outdoors and mowed numerous lawns in Plainfield, and also mowed at Willow Lawn Cemetery in Plainfield. She took care of three ladies in Plainfield and also babysat in her home. Darlene was a past 4-H leader, Cub Scout leader and also taught Bible School.
    She is survived by her children, daughter, Dianne (Mike) Barnett of Clarksville, Iowa; daughter, Mary (Dale) Wedeking of Plainfield, Iowa, and a son, Michael (Mary Sue) Benning of Cedar Rapids, Iowa; sixteen grandchildren, and 31 great grandchildren; two sisters, Alice and Jane; one brother, Donald and a son-in-law, Dan Myers of Sioux City. She was preceded in death by her parents; her husband, Clarence; daughter Carla Myers, daughter-in-law, Jane Benning and her eight brothers, Harley, Marvin, John, Simon, Bob, Jerry, Larry and Gary; and three sisters, Heneritta, June and Judy.
  Private Family Celebration of Life Services will be held at Trinity United Methodist Church in Waverly, Iowa at a later date. Burial will be held in Willow Lawn Cemetery, Plainfield, Iowa. Memorials may be directed to the family for a later designation.
  Kaiser-Corson Funeral Home in Waverly is in charge of arrangements. 319-352-1187
Category:
Tribune-Journal & Star
101 N. Main St.
P.O. Box 788
Clarksville, IA 50619
Phone: 319-278-4641
Mid-America Publishing
This newspaper is part of the Mid-America Publishing Family. Please visit www.midampublishing.com for more information.