The boys of fall step up - Shuttle bus driver recognized by football team and wrestlers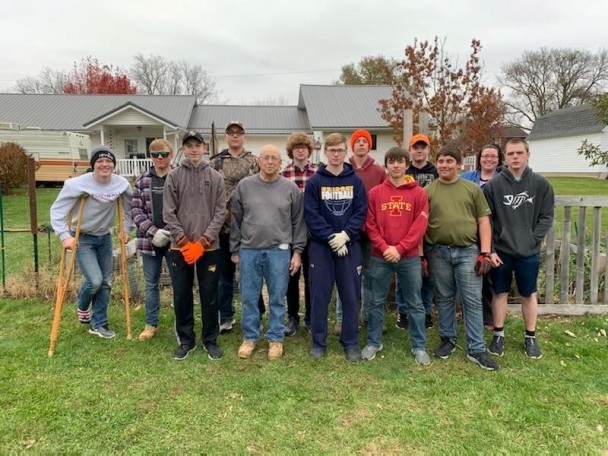 Clarksville football players and wrestlers have many devoted and enthusiastic supporters–among them over the past few years of sharing with North Butler, has been their daily shuttle bus driver, John Scheidecker. This fall, the boys took time out of their schedules to show their appreciation for everything Scheidecker has done, cleaning out his garden for winter.
     "The football team came over to help clean up my garden. I wanted to say how surprised I was and grateful. It was a lot of work, and it got done in a very short amount of time. They're a wonderful bunch of boys, and I really enjoyed working with them," said Scheidecker. "I think we see here well brought up kids, and I especially appreciated Dave Kelm and Tim Backer coming too and helping. It was a great time."
     The team cleaned out tomato plants, green beans, cucumbers and vines, saving Scheidecker an estimated two days of work.
     "These young men are Clarksville all-stars, both on and off the field. They have shown kindness and respect to John, their shuttle bus driver, and have cheered him on through his cancer treatments last year and his heart failure issues this year," said Scheidecker's daughter, Ruth Saulsbury. "They represent what greatness looks like in this community."
     Scheidecker mentioned how the wrestling team gave him a coffee cup with the message "I can and I will" along with a card and gift card after his final cancer radiation treatment as he went into remission. In May, he started having heart problems, and had a pacemaker put in at the end of August.
     "I'm doing fine now with the pacemaker working the way it should,' John Scheidecker said.
     This fall he's back in the fields, combining–and prouder than ever of "the boys."
     "[John] became part of the family," said mom Valerie Brunner. "He made the boys sandwiches and brought other snacks for them almost every day."
     Over the course of the last few football and wrestling seasons, Scheidecker not only shuttled the boys to and from their practices and events, but always sat near the field or inside the wrestling room to learn more about the boys' interests, understand their techniques, and offer support.
     "The boys have felt this presence and his genuine care and interest," said mom Brianna Backer.
     Scheidecker has personally made PB&J sandwiches to give to the boys to eat after the long hours of school followed by practice.
     "He's brought them bottles of water for their rides home. He keeps a folding chair in the van/bus, so he always has a front row seat to whatever sport he is taking them to," said Backer. "He's made such an impact on these boys, and they respect him greatly for the quiet ways he's impacting them as teenagers."
     Backer asked Saulsbury, if there was anything the boys could do for Scheidecker.
     "Ruth told me there wasn't anything more they could do/give John, because their reciprocated friendship was all he needed–it meant the world to him," Backer said.
     But Saulsbury started thinking, and after a few weeks asked if the boys would be willing to help John with his garden. That very same day, the boys surprised him.
     "With just a couple hours' notice, the boys were 'all in,' and jumped at the chance to show John how much they care for him and his family," Backer said.
     The friendship built between bus driver, wrestlers and football players is a special one.
     "Generations apart," Backer said, "these young men have made an immeasurable friendship with this great man who does so much more than drive bus."
Category:
Tribune-Journal & Star
Butler County Tribune Journal
422 North Main Street
P.O. Box 8
Allison, IA 50602
Phone: 319-267-2731
Clarksville Star
101 N. Main St.
P.O. Box 788
Clarksville, IA 50619
Phone: 319-278-4641
Mid-America Publishing
This newspaper is part of the Mid-America Publishing Family. Please visit www.midampublishing.com for more information.