Bernice Edna Louise Hoodjer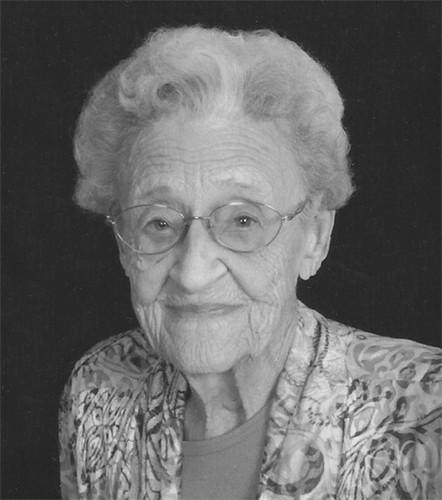 Bernice Edna Louise Hoodjer, age 97, of Clarksville, Iowa, was born the daughter of William F. and Malinda (Wilken) Stoxen on April 5, 1923, rural Clarksville, Iowa.  Bernice was baptized and later confirmed at Pleasant Valley United Church of Christ, rural Clarksville, Iowa.  She received her education at Pleasant Valley School, Fremont Township near her home.  Bernice had worked in various businesses in Clarksville before marriage including a restaurant, grocery store and the bowling alley.
            On September 11, 1948, Bernice was united in marriage with Claude Hoodjer at the Little Brown Church in Nashua, Iowa.  The couple made their home in Bremer, Iowa where they farmed for three years. Then they moved and farmed south of Clarksville until 1960 and then purchased a farm east of town.  Bernice was a loving wife, mother, grandmother and worked farming alongside Claude.  For a couple years Bernice also was a bookkeeper for IPS.  They retired from farming in 1990.  She moved into Clarksville in 2008.  She later moved into Assisted Living in Clarksville and eventually became a resident of Clarksville Nursing and Rehabilitation Center.  In the fall of 2020 during Covid 19, Bernice moved in with her daughter to be near family. 
            Bernice was an active and faithful member of St. John Lutheran Church in Clarksville, where she had taught Sunday school and belonged to W.E.L.C.A.  Through the years she had also been a member of Nursing Home Auxiliary for 25 years and Friendly Neighbors Club.  In her spare time, she enjoyed playing cards, cooking for the family, and traveling.
            Bernice passed away at home on Tuesday, January 5, 2021, from natural causes.  She was preceded in death by her husband, Claude on December 17, 1992; still born twin daughters, Debra and Diane; her parents, and one sister, Esther Schmidt.
            Bernice is survived by one son, Tim (Jody) Hoodjer of Clarksville; one daughter, Paula Hoodjer of Clarksville; four grandchildren, Billie (Scott) Buss, Leslie (John) Groen, Stacy (Matt) Stirling, Scott (LeeAnn) Hoodjer; 12 great-grandchildren, Fletcher, Mollie, Walker Buss, Sidney (fiancée, Tyler Duster), Avery, Riley, Rowdy Groen, Madison, Katelyn Stirling, Charlie, Cambell and Dylan Hoodjer.
            A private family funeral service was held at 10:30 a.m., Monday, January 11, 2020, at Redman-Schwartz Funeral Home in Clarksville.  Pastor Charlie Underwood officiated the service and Billie Buss shared family memories.  Avery Groen and Sidney Groen sang "Living For Jesus a Life That Is True".  Special music, "Take My Hand, Precious Lord" was played.  Burial was held at Lynwood Cemetery in Clarksville with Stacy Stirling, Leslie Groen, Scott Hoodjer, Billie Buss, Sidney Groen and Madison Stirling serving as Casketbearers.  Honorary Casketbearers were Fletcher Buss, Mollie Buss, Walker Buss, Avery Groen, Riley Groen, Rowdy Groen, Katelyn Stirling, Charlie Hoodjer, Cambell Hoodjer and Dylan Hoodjer. 
            A public visitation was held from 4:00 p.m. to 6:00 p.m. on Sunday at the Redman-Schwartz Funeral Home in Clarksville.  Memorials may be directed to Cedar Valley Hospice or St. John Lutheran Church.  Redman-Schwartz Funeral Home in Clarksville was in charge of arrangements.  Online condolences may be left at www.redman-schwartz.com
Category:
Tribune-Journal & Star
101 N. Main St.
P.O. Box 788
Clarksville, IA 50619
Phone: 319-278-4641
Mid-America Publishing
This newspaper is part of the Mid-America Publishing Family. Please visit www.midampublishing.com for more information.