Anthony "Tony" Metz, 30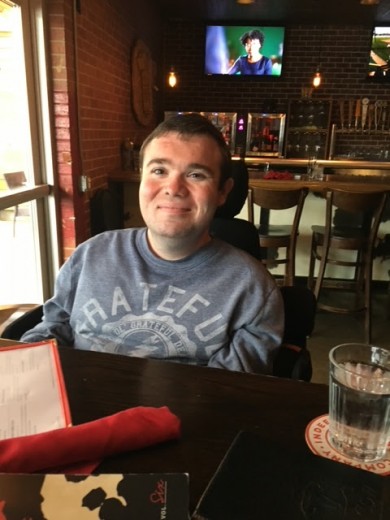 Anthony "Tony" Metz, 30, Apple Valley, MN, passed away peacefully in his home, Friday, February 17, 2023. 
Tony was born September 24, 1992 in St. Louis Park, MN. He was a graduate of Eastview High School and received a BS degree in MIS from Augsburg University. 
Living with a diagnosis of Duchenne Muscular Dystrophy, Tony was a positive role model for all living with disabilities. Tony was partnered with his loyal service dog, Hudson in 2012. His knowledge of music was unparalleled, with a music blog, Crunchy Jams. He used his passion for music to connect people. Tony loved video games, volunteering with children and running the scoreboard at Eastview wrestling meets. Tony loved to travel when he was younger, including a Make-A-Wish trip to the Lego factory in Denmark, a family trip to Italy, as well as many spring break trips. As an avid collector, he loved to wheel and deal. As an advocate for the Muscular Dystrophy Assoc., Tony was an active fundraiser, as well as one of their campers for many years. Despite having many physical challenges in his life, Tony was always positive and touched many lives through humor and headstrong opinions. Rather than lamenting on missed social opportunities, Tony brought the party to him. He was always a big personality in a room.
Tony is preceded in death by his grandfather, Leland "Red" Metz and his aunt Myra Currans Partridge. 
Tony is survived by his parents, Carol and Steve Metz, brother and his partner, Vince Metz and Rachel Sporer, Hudson the Service Dog, grandparents Janice Metz, Sheila and Paul Currans, many aunts, uncles and cousins.
Funeral services are Friday, February 24, at St. Thomas Becket Catholic Church, 4455 S. Robert St., Eagan MN, 1:00 visitation, 2:00 service, with reception to follow.
In lieu of flowers, memorials are preferred to the family, in the name of the Muscular Dystrophy Association, or Can Do Canines.
Category:
Tribune-Journal & Star
101 N. Main St.
P.O. Box 788
Clarksville, IA 50619
Phone: 319-278-4641
Mid-America Publishing
This newspaper is part of the Mid-America Publishing Family. Please visit www.midampublishing.com for more information.