Aleasa Mae Kampman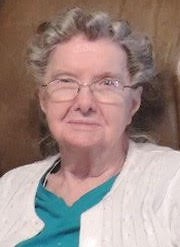 Aleasa Mae Kampman, 98, of Allison, passed away Monday, October 19, 2020, at her home in Allison.  She was born April 21, 1922, in Bristow, Iowa, to Harm and Mary (Brinkman) Uhlenhopp.  

Aleasa graduated from Clarksville High School and furthered her education at Iowa State Teachers College in Cedar Falls.  She was united in marriage to Willie A. Kampman on August 14, 1942, in Mason City.  Aleasa worked as a teacher, homemaker, and nurse's aid.

Aleasa received the Lord Jesus as her personal Savior and gathered at the Hitesville Gospel Hall in Aplington.  She enjoyed sewing, embroidering and crossword puzzles.  Aleasa also enjoyed gardening and baking, especially her pumpkin bread, which she shared with friends and neighbors.

Aleasa is survived by her children Marianne Folkerts of Allison, Mike Kampman of Allison, Mavis Downing of Ontario, Wisconsin, grandson Jim (Kimberly) Folkerts of Dike, great-grandchildren Trevor and Levi, granddaughter Jeni Tjarks (Bill Frakes) of Goldfield, great-grandchildren Janesha and Jordan, grandson Brian Folkerts, great-grandchildren Wyatt and Kale, granddaughter Dawn (Ron) Wright of Melfort, SK, Canada, great-grandchildren Aleasa and Jordie, grandson Dan (Casey) Downing of Norwalk, Wisconsin, and sister LaVera Cuvelier of Aplington.

Aleasa was preceded in death by her parents Harm and Mary Uhlenhopp, husband Willie, sons-in-law Max Folkerts and Mike Downing, and sisters LaVon Diekman and Shirley Graham.
Category:
Tribune-Journal & Star
101 N. Main St.
P.O. Box 788
Clarksville, IA 50619
Phone: 319-278-4641
Mid-America Publishing
This newspaper is part of the Mid-America Publishing Family. Please visit www.midampublishing.com for more information.